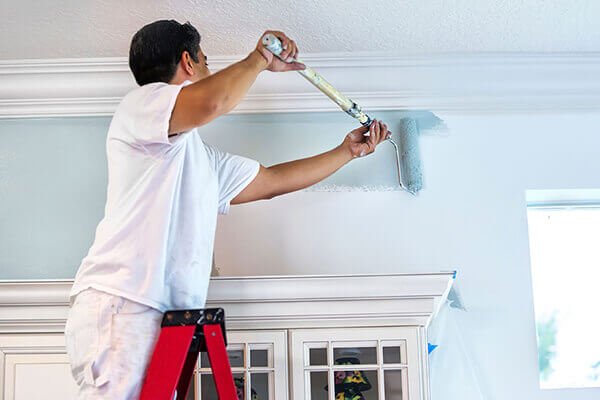 Interior House Painting Services in Jacksonville: Apex Pro Painting
When it comes to painting your house interiors, you need professional results. Whether it's a full remodel of the house or a new accent wall, your home deserves a high-quality service and an impeccable finish. Apex Pro provides a seamless, efficient, and meticulous Interior House Painting in Jacksonville, FL that match your personality and style. This will make a world of difference to your home's overall look & impact.
At Apex Pro Painting, we are experts in interior house painting services in Jacksonville. For us the color, the ambiance and the interior atmosphere for each of your room is important. You will never find any guesswork due to our extensive house painting experience and we help you select colors that will stay true at sunrise, sunset, and every minute in-between.
With over 30 years of interior painting expertise in Jacksonville, FL, we know exactly what to do to get the job done quickly and to a high standard. Whether it is the living room painting, dining room painting, kitchen painting, bedroom painting or a game room painting, Apex Pro delivers the ultimate interior painting results that reflect your style and ideas perfectly.
Interior House Painting Process
With over 30 years of interior painting expertise, we know exactly what to do to get the job done quickly and to a high standard.
Step 1 – Color Selection
Before we start, you will have to choose your color. If you would like to replicate a color already on your wall, you can use an old can of paint for reference, or you can take a chip to the paint store. We can help you identify the color, the finish, and type of paint, and we also offer a Color Consulting Service if you need help coming to a decision.
Step 2 – Protect the Area
We cover the furniture and floors with a new, clean piece of protective plastic sheeting. We also protect your floors with drop cloths, taking care to secure every inch of the room.
Step 3 – Prepare Surfaces
We prepare the walls for interior painting by filling any holes or cracks in ceilings and walls, sealing any stains, and scuff sanding any uneven surfaces, including loose or old paint. This creates the smooth, clean canvas necessary for a perfect finish.
Step 4 – Apply New Paint
After any areas repaired in the previous step are primed, we apply premium quality paints for a uniform finish. There are multiple finish options, including flat, matte, eggshell, satin, semi-gloss, and high-gloss, and we will have gone over the benefits of each with you beforehand so you can make an informed decision. The time will vary depending on the size of the job, but we will always ensure to work as quickly and efficiently as possible.
Step 5 – Clean Up
The paint will dry within a few hours, and you do not need to vacate the house while this is happening. The crew removes all the painting materials and coverings. We vacuum your floors and carpets and put everything back exactly where we found it while paying close attention to doing a thorough job cleaning the work area.
If you're looking for Jacksonville Interior House Painting Services.
call Apex Pro Painting at (904) 382-0601 or complete our online request form.
General questions about Interior House Painting, Jacksonville
Yes, your interior elements such as furniture, brick work, ceiling , size of the room , amount of light and based on use , we determine the shade of the color.
Yes. We take care of your furniture. If it is a spacious room, little movement of furniture is necessary and it is covered up with cloth or plastic.
Ideally critical area such as bathroom and toilet needs a complete scheduled interior painting. The other rooms are sealed during the interior painting activities as emulsions fly due to lightness.