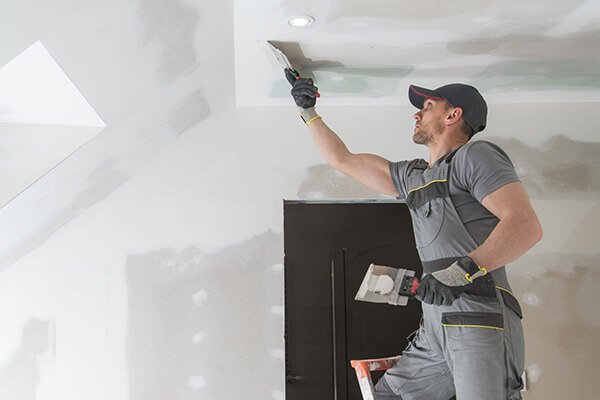 Professional drywall repair Services in Jacksonville: Apex Pro Painting
Repairing cracks, holes, or dents in your drywall from a Jacksonville drywall repair contractor will result in a smoother leak proof interior and exterior. Interior paint application lasts long if the wall has no dents, cracks. Apex Pro Painting is professionally trained to replace or repair your drywall and refinish the surface with any paint, wallpaper covering or specialty finish you desire. From small punch-through holes to hanging new drywall panels, cutting, attaching, and applying a final skim coating and sanding, Apex Pro Painting is your one-stop shop for all your drywall repair in Jacksonville.
Performing drywall repairs for your home or business in the beginning of your painting project is an important part of a quality painting project. Dry wall repair may seem fairly straight forward but to achieve a desired result of your interior painting, exterior painting you need to plan for a comprehensive extensive dry wall repair is required. Apex Pro Painting gives you a complete drywall inspection service, drywall repair service & recommendations for your overall house painting services in Jacksonville.
Drywall Repair Jacksonville
Apex Pro Painting has built a professional reputation by delivering an extraordinary customer service experience for Drywall Repair in Jacksonville. Before the paint of your choice is applied to the walls and before the surface preparation is complete, Apex Pro Painting can assist you with your home's drywall repair needs to bring you the best possible finished project. Even a hairline crack if left not repaired, it can grow into a major problem for your wall.
Drywall damage is a common problem for many homeowners and one that can be tricky to fix at home. It is a meticulous repair that requires time and attention to detail. If not properly taken care of, it can result in an uneven and unappealing appearance or, worse, structural damage to your walls. We have years of experience in drywall repair, making it easy for them to deliver impeccable results quickly and efficiently.
There are many factors that can damage your wall painting. We almost look into all aspects of a drywall that could stop us doing a good painting work. We almost inspect and repair the drywall if we identify the following problems –
Discoloration And Deterioration
Damaged corners and dents
Holes due to bump or nails
Cracks and patches
Moisture patches and water damages
Furniture Scuffs
If you're looking for Jacksonville Professional drywall repair Services.
call Apex Pro Painting at (904) 382-0601 or complete our online request form.
General Questions about Drywall Repair and Painting Service in Jacksonville
Factors such as size of the area, ceiling height, job location and accessibility. Apart from this materials and products also adds on to the drywall repair cost.
Repairing a Ceiling patch is a time consuming process. We definitely patch it. When it comes to painting over a drywall patch on your ceiling, always repaint the entire ceiling, not just the areas repaired.
Yes we do! We can repair even the most challenging drywall repairs in your home or workplace by choosing right primer, the best time to prime and prepping well.