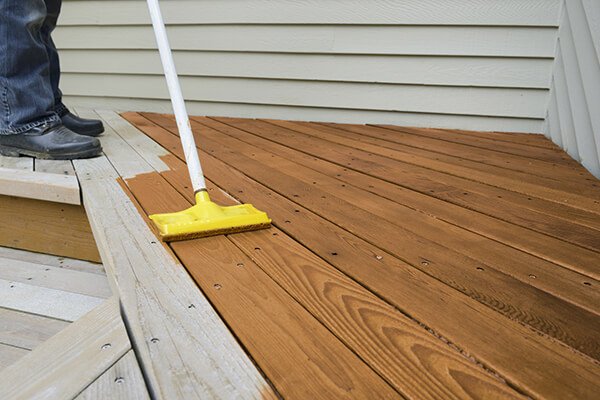 Deck Staining & Painting Services in Jacksonville: Apex Pro Painting
Deck and Fence are one of the biggest investments of your home for many reasons. Regular painting and staining of the deck creates a healthy atmosphere for your family and the landscape. As both are outside these are susceptible to heat, bad weathers of Florida rain and humidity which makes the surface and materials to decay and rot. Apex Pro Painting does the Deck & Fence painting projects in Jacksonville, FL with proper evaluation to identify if it needs a staining or painting.
Your deck, porch, and lawn are an extension of your home and a reflection of your personality. Often the first impression of your house, these areas provide an important introduction to friends and neighbors and are important for maintaining the value of your property. You can check with any good painters in Jacksonville for a deck and fencing painting.
At Apex Pro Painters, we understand the value of curb appeal and a yard that you want to spend time in. That's why we are invested in helping you make your home look its very best! From pressure cleaning to deck staining, you can trust that your home's decks and fences are in good hands with Apex Pro Painters in Jacksonville.
Consider a deck refinishing & staining service in Jacksonville
A deck staining project can never be a DYI kind of work. It needs complete experience, craftsmenship, tools, equipments, material like waterborne and alkyd / oil based products, a good know-how and it takes some time as well for quality deck refinishing & staining service in Jacksonville. For your commercial office or personal home or society, get in touch with Apex Pro for a quality deck & fence painting project in Jacksonville FL.
Why Should I Hire a Deck Repair Company?
The right color or stain can make an enormous difference in the appearance and integrity of your home—but only if applied properly. The same goes for a thorough staining job. Whether you're caring for an aging deck or building new, our deck repair, staining, and painting services can make your deck your very own outdoor oasis.
Fence Repair, Painting, and Staining Services
Fence painting, staining, and repair can be surprisingly challenging jobs­—not to mention they're time consuming! Our crews of exterior painting experts are ready to take on the challenge for you. Using high-quality paints and stains from brands like Sherwin Williams®, BEHR®, and Benjamin Moore®, we'll transform your fence and/or deck to meet your greatest expectations.
Our Fence and Deck Repair Service Process
Apex Pro Painters follows a proven process to prep, repair, paint, and stain the decks and fences you hold dear. For wooden decks and fences, this process includes these important steps:
Remove all yard equipment, furniture, & visible debris from the deck surface
Remove all dirt from the surrounding the fence or desk.
Scrape any existing paint from the surface of the deck or fence.
Thoroughly pressure washes to clean the surface prior to application.
Apply a protective wood preservative.
For paint projects, apply a quality exterior primer.
Apply several coats of a quality stain or paint.
If you're looking for Jacksonville Deck Staining & Painting Services.
call Apex Pro Painting at (904) 382-0601 or complete our online request form.
General Questions about Deck Staining and fence painting services
Usually the rough surface needs some sanding. But yes to answer, the age of the deck and current condition can be known with an inspection and based on this we can recommend.
Simple a water drop test can help you to know the actual condition of your deck. If it absorbs water then, it is a high time.
Transparent and semi-transparent stains are 1 coat systems. Solid color stains require a 2 coats system. So with a solid color stain, anytime you would like to give your deck a fresh coat