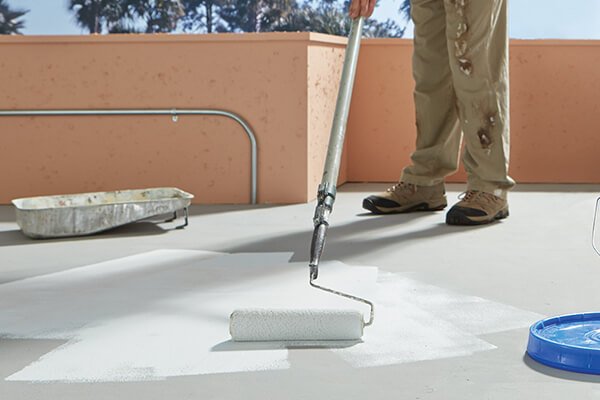 Concrete & Cool Deck surface coatings Services in Jacksonville: Apex Pro Painting
Residential and Commercial Decking in Jacksonville, FL
By nature cool deck has concrete surface which stays cool during summer. When homeowners and business owners plan to paint the cool-deck they have to be very clear about few things specially the material of the topcoat, color of the topcoat, location of the pool deck, and texture of the concrete surface. Apex Pro Painting has a long 15 years of experience doing Residential and Commercial Decking Service in Jacksonville, Florida. In our first interaction about your Cool Deck painting project, we will guide you with a proper inspection and free quote on your pool deck.
If you already have a pool deck, we advise you to resurface your pool deck or we can even refinish by resurfacing the cracks, damages can make this project. Even we can apply a cool deck overlay to give a nice touch to your pool deck. Cool Deck painting can be done after this in accordance to your preference. Find a commercial decking jacksonville fl contractor in Jacksonville to discuss your cool deck painting requirements.
Cool Deck painting Service Jacksonville
Cool deck painting needs nice set of color and coat that adds texture to existing concrete so they absorb less heat and reduces slippery. Cool deck coatings make a decorative topping on the concrete that reduces lower surface temperatures. Cool deck concrete is a much better option than brick and tile decks. Cool deck coatings are not concrete pool deck paint rather the coat enhance the concrete surface and gives a nice finish. We can make it dry and do a fine pressure wash and do the desired cool deck painting.
Apex Pro Painting has comprehensive experience in pool deck outdoor concrete structures. We follow the following steps to give a finishing work –
Cool Deck Surface Prep: We do detailed cleaning, de-greasing, masking, and priming and drying of pool deck is the first step. Finishing the joints and cracks are important as well.
Equipment Setup and Safety Check while spraying: For small to large commercial projects we use hose and guns and required safety parameters, body protections while applying the coat and maintain safe distance from the overlay.
Application of Protective Coating: Depending on the requirement, we follow coat preparation, color blending, design masking, and follow with spraying of cool deck coat. It can be multiple coats;
Texturing and trimming to make the deck looking sloppy: We would ideally plan for 3 to 4 quotes to get a smooth surface, even shiny and slip-resistant.
Polymers, polyurethane or poly-urea coated decks takes some time to dry. Apex Pro Painting suggests you to make use of the cool deck after 24 hours of pool deck coating.
If you're looking for Jacksonville Concrete & Cool Deck surface coatings Services.
call Apex Pro Painting at (904) 382-0601 or complete our online request form.
General Questions about Cool Deck painting Service Jacksonville
Concrete cool deck surfaces can be painted. The process for applying paint to cool deck needs craftsmanship. Speak to Apex Pro Painting to get a quote.
Apex Pro Painting can give you a smooth or textured look of your pool deck with its painting service.
Traditional pool deck paints can last anywhere from 1 to 5 years. Please do periodic power wash to keep it clean.